Kid Icarus: The Resident Evil
es un videojuego de la serie
Kid Icarus
, es un Crossover entre Kid Icarus y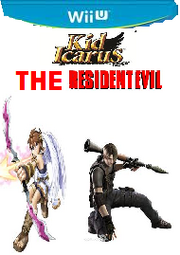 Resident Evil, fue lanzado para
Nintendo 3DS 
y 
Wii U
Personajes
Edit
Antiguos
Edit
Palutena
Magno
Dhyntos
Viridi
Hades
Pit Sombrio
Poseidon
Petrodius (Bueno en este juego)
Hydra
Claire Redfield
Albert Wesker
Jill Valentine
Leon Sombrio
Palutena Sombria
Robo-Gaol
Robo-Pandora
Nemesis T-Type
Todo comienza cuando Palutena estaba asegurandose de que todo estuviera bien en el mundo, cuando detecta un agujero de gusano, de donde sale Albert Wesker y un Nemesis T-Type Congelado.
Wesker llega a un laboratorio, en Espartanea y descongela al Nemesis y tambien le vende el Virus-T al recien resusitado Hades, Palutena manda a Pit a luchar contra Wesker, peroen su camino se encuentra con Leon S. Kennedy, que busca derrotar a Wesker y encontrar a su amiga perdida Claire Redfiel, que se encuentra en este mundo, los dos se alian para derrotar a Wesker.
Lista de Capitulos
Edit
Son 60 Capitulos (40 Capitulos la historia de Pit y Leon, y 20 capitulos con Jill Valentine)
Leon Kennedy y Pit
Edit
Capitulo 1: El Residente Maldito
Edit
Espartanea se convierte en Racoon Espartanea, Pit lleva el Estoque Basico, mientras que Leon lleva una Handgun, ahi pit se da cuenta de que todos los habitantes se convierten en Zombies y tambien el ejercito del inframundo es zombie, dibo a la reciente aliansa entre Hades y Wesker.
Jefe: Hydra Zombie
Capitulo 2: Visita a la antigua Racoon City
Edit
Leon y Pit van a Racoon City, porque ahi fue Hades, ellos van a investigar, ahi encuentran a Magno, que busca a venganza de Hades, que mato a su Hermano, al final del capitulo encuentran al Tyrant T-002, extrañamente revivido
Jefe: Tyrant T-002
Capitulo 3: Jill
Edit
Leon y Pit van al Laberinto del Engaño, ya que hay unos soldados perdidos, donde encuentran a Robo-Pandora, la derrotan facilmente, ahi se encuentran a Jill Vanlentine, y les explica que fue porque, al llegar a este mundo hablo con Palutena y le dio la mision de ir por los soldados, ahi encuentran el Segundo Espejo de la Verdad, donde aparece Leon Sombrio, a diferencia de Pit Sombrio, este si es un sirviente del Ejercito del Inframundo.
Jefe: Leon Sombrio
Capitulo 4: Madrugando
Edit
En este capitulo solo se puede usar a Leon S. Kennedy
Leon se despierta en la noche, en uno de los cuartos del reino del cielo, ya que se quedo a vivir ahi, se despierta y encuentra a Nemesis en el reino del cielo, sin pensarlo dos veces, sale, recorre un largo camino, cuando llega deja una roca y un Lobo zombie, que es el jefe.
Jefe: Super Lobo Zombie
Este Capitulo se ira expandiendo poco a poco
Ad blocker interference detected!
Wikia is a free-to-use site that makes money from advertising. We have a modified experience for viewers using ad blockers

Wikia is not accessible if you've made further modifications. Remove the custom ad blocker rule(s) and the page will load as expected.