drake: the spaceshawnk redemption
is a fanmade game to the 3ds
it have two versions:
normal quest and master quest
the master quest version have more weapons,more gadgets and includes an nothing harder mod
e
plot: how drake entered spaceshawnk clan,discovered the plan, and how it escaped when the ship were about to blow up
gameplay style: like metroid prime and metal gear
a 3d game were you control drake with his armor with lots of powers
and most of the time the objective is to reach the end of the level undetected by enemies
in the last level you run against a time limit to escape the ship
weapons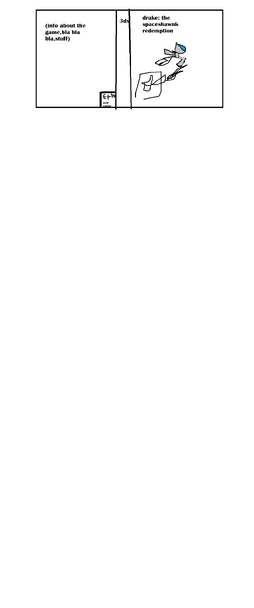 (in the new weapons page)
last stage dialogue:
drake: HOLD IT RIGHT THERE COMMANDER!!!
commander: you discovered my plans, subject 232x
drake: no time for words *kicking him and his plans into the vaacum of space*
commander: I SHALL GET MY REVEEEEEEEEENGE!!!!
drake: *activating ship´s self destruct system* i will get out here now!
ending dialogue:
escape pod: initializing ejection sequence
drake: oh noes!
*drake is ejected out of the ship and his armor got out of him*
now lets see what is going happen now
(THE END)
trivia:
the title of the game is an parody of the movie: the shawnshank redemption
the master quest version is an reference to the master quest version of the legend of zelda games released to the game cube
Ad blocker interference detected!
Wikia is a free-to-use site that makes money from advertising. We have a modified experience for viewers using ad blockers

Wikia is not accessible if you've made further modifications. Remove the custom ad blocker rule(s) and the page will load as expected.