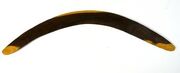 Boomerangs are introduced in Kid Icarus: Zeus's Lightning Bolt and Kid Icarus:The Scientist. Boomerangs are very slow pace weapons. The beholder only carries two because these weapons come back to you, and stay out longer for extra damage. They are razor sharp in melee. They have very low range.
Weapon Models
Edit
Wood Boomerangs
Light Boomerangs
Ares Boomerangs
Ad blocker interference detected!
Wikia is a free-to-use site that makes money from advertising. We have a modified experience for viewers using ad blockers

Wikia is not accessible if you've made further modifications. Remove the custom ad blocker rule(s) and the page will load as expected.